The Idea

There was only going to be one subject if I ever chose to write a book.

No…not "The Great Wines of Essex" but "Pomerol".

In my fertile imagination I envisaged exactly how it would look, how it would feel and read. It had to be deserving of the place whose wines I adored and furthermore, it had be cherished. There were too many dry, soulless tomes that doled out information but paid scant regard to entertain, as if vinous literature was not obliged to elicit enjoyment. I wanted to get away from featherweight books replete with carefully posed, glossy photographs interspersed with the pointless recipes obliging unobtainable ingredients. Instead, I envisaged a book that expressed my own personal relationship with Pomerol, a book that lived and breathed, a book that would not be compromised in any way. So perhaps for that reason, I recognised that "Pomerol" would have to be self-published and naturally, in my naivety I under-estimated the gargantuan task ahead.

The catalyst was a pair of lengthy articles I wrote upon Le Pin and Château Lafleur published in Wine-Journal in early 2009. Augmented by several previously written Pomerol-related articles they formed the foundation of the book. I began visiting Pomerol regularly to interview winemakers, one or two on several occasions. My friend and wingman, Johan Berglund, kindly promised to capture the landscape and winemakers in his Leica lens. Like myself, I knew Johan would not compromise his vision of Pomerol and that his images should tell their own story. The stunning results speak for themselves.

Two wine-loving friends, Keith Prothero and Richard Katz, encouraged me forward and guaranteed to underwrite the book, a Godsend when you are self-publishing. But I was still running under a very tight budget and had to be resourceful. Fortunately, another friend Brinda offered me her spare room and she became a crucial contact in Bordeaux, liaising with proprietors and assisting with some of the trickier translation. The book would have been impossible without friends like these – all worth their weight in Petrus.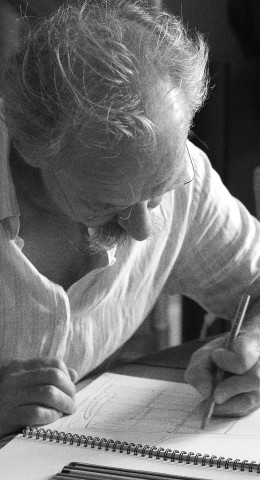 Jacques Guinaudeau of Ch. Lafleur drawing. Early on, I hit upon the idea of asking winemakers to sketch their own vineyards since the price of an A4 drawing pad from WH Smith is cheaper than a professional cartographer. And as the book began to coalesce and themes began to surface, I understood that Pomerol was more than the sum of its grandees. There were dozens of unknown labels and winemakers, pocket-sized vineyards that all had their own roles to play. So the scope of the book broadened significantly the moment I chose to include every Pomerol cru that had ever existed, irrespective of size or familiarity. The Syndicate Viticole de Pomerol became involved and at that point I felt more weight and gravitas attached to the book. Nobody had ever really tackled Pomerol since the likes of Jean-Andre Garde, Professor Henri Enjalbert and Bernard Ginestet. These esteemed authors published important works and yet nobody had woven them together and updated Pomerol's genesis or its evolution. Hence my research intensified and I began stitching scraps of information together in order to form the complete picture of Pomerol myself. The more I discovered, the more obsessed I became.

By the middle of 2010 the chapters had become a single piece of work. Proprietors generously lent their time; rummaging through their woefully lean archives but still unearthing material that was often a surprise to them as much as it was to me. I am indebted to all those that assisted. The Syndicat issued a questionnaire to all their members and interviews at their offices duly conducted. The blank spaces began to be coloured in. Yet as papers came into my possession, the more questions and contradictions appeared. As a consequence as much time was spent disentangling information as actually writing the book.

Tin Brown, an old pal from my hometown of Southend-on-Sea, agreed to help with the design over a beer down the pub (which is never a wise place to agree anything.) Nevertheless he did an amazing job and made certain that "Pomerol" achieved the highest aesthetic standard. "Pomerol" does look a million dollars. I recruited two editors, Susanna Forbes and Hilary Lumsden, to share both the burden of a complicated text that stretched well over 220,000 words and also to share a stubborn author. Together the Word documents began to take a book-like shape. Self-publishing is like seeing a wine through from vine to bottle instead of vine to vat. There were meetings about the colour of paper, since up until that point I was unaware there are fifty shades of white. We toyed with fonts, tweaked the colour scheme by imperceptible degrees; trawled through the mass of spelling errors and grammatical faux pas. It entailed hours of work and much burning of the midnight lamp, not only myself but also everyone involved. It made for an exhausting yet visceral process and is probably the closest that I will come to giving birth (but without the mess.)

After countless hours toiling away at the computer, staring at barely legible parish records and legal documents, transcribing interviews and looking for inspiration, the final furlong came into sight. In undertaking the entire publishing task myself, I flew to the printing plant in Verona to inspect each page as it ran off the press and trialled "50 shades of grey" at the silk screen press to achieve the right tone on the cloth cover. Sadly, Richard passed away before he could see the book finished, but he is there in spirit, probably noticing a spelling mistake and trying to give me a sign. Together, we got there in the end.

The Book

There are three main parts to "Pomerol" (apologies for the lack of originality in the title, but nothing seemed to quite fit.)

The first examines its complex, convoluted history, which to all intents and purposes has never really been detailed before. The story commences around the 12th century and we travel through time with the Knights of Malta and feudal landlords, examine the pivotal role of the clergy and the pioneering winemakers of the 18th century. It covers the devastation of the 1956 frosts and details its stumbling recovery. It ends around the 1980s as this parochial "backwater" is finally ushered into the modern age and attains global popularity. I approach its terroir from an original perspective, examining the nature of the mysterious "smectite" clay and gravels before entering brief discussions upon grape varieties and vinification.

Part two is the heart of the book. Spanning some 400-pages, each chapter is devoted to one of 43 properties in unsparing detail, both well known and unknown, from their murky origins to the present day. Each chapter begins with one of Johan's double-page photographs that were taken during a frenetic 48-hours hurtling around Pomerol during the 2011 harvest: the only time possible to catch everyone in one place. Around a dozen chapters are furnished with hand-drawn sketches of vineyards that are drawn, signed and dated by the winemakers themselves. They do not aspire to accuracy. Instead, the offer a perspective through their eyes and interpreted by their own hand. The sketches are telling in their own unique way.

Those accustomed to my writing in Wine-Journal should be familiar with my irreverent style and you should not be disappointed. Anecdotes have been turned into vignettes; there are numerous cultural references; subtext and tangents; personal asides and humour, all designed to embellish the information and make it enjoyable to read. The chapters are bound together by Pomerol and by vine. However, each chapter adopts a different approach akin to songs on an album*, whether they are historical, spiritual, religious, comical, romantic, surreal, epic in scope or straight to the point. The aim is to add colour and contrast instead of simply relating facts and figures, one after the other. Interviews with present winemakers were written verbatim to offer a sense of time and place, to get the "feel" of Pomerol, so that you can imagine you are there.

*This is probably the first wine book with its own soundtrack.

Part three is the A to Z. If it is a Pomerol – then it should be included within one of its 100-odd pages, even if it appeared for one solitary, miserable vintage back in 1933. It constitutes my own exhaustive Pomerol census accounting for every label past and present, to fill in the gaps left by the limited space in Part Two and present a complete picture of the appellation. Though I am certain I will have missed one miniscule cru somewhere, this is as comprehensive as I could possibly be without losing my mind.

There is much more besides, some obvious and others hidden away for readers to find. That is my book. I hope you enjoy it.